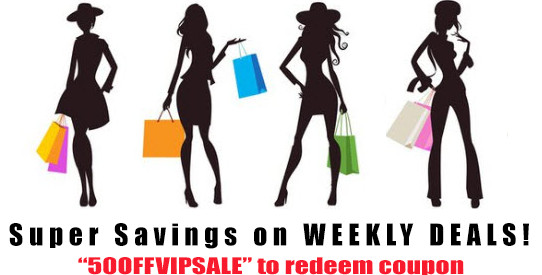 Welcome to HansonEllis VIP Members Club!
Come visit our our "
WEEKLY DEALS
" for the Best Deals Online! We are excited to offer you Incredible Deals and Secret Offers only to our members.
Right now, you can also enjoy our Gift Certificates up to $50 on your purchase. IMPORTANT: Go to
"MY CART" and Click "VIEW CART"
to input coupon code "50OFFVIPSALE" for discount.
$5 Gift Certificate for purchases $100 or more {Coupon Code: TAKE5OFF}
$10 Gift Certificate for purchases $200 or more {Coupon Code: TAKE10OFF}
$25 Gift Certificate for purchases $500 or more {Coupon Code: TAKE25OFF}
$50 Gift Certificate for purchases $1000 or more {Coupon Code: TAKE50OFF}