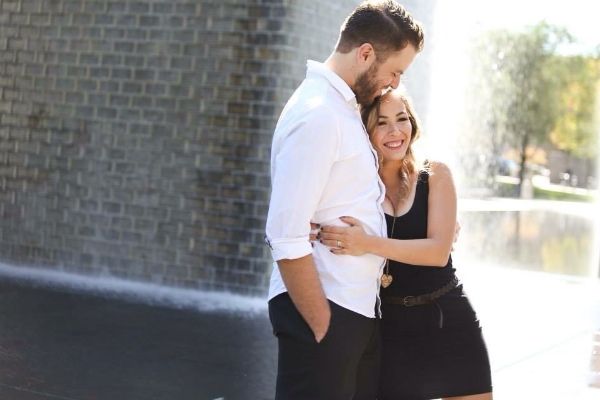 A Picture Perfect Wedding is all we can think about when we say the three letter word 'YES' after a wedding proposal.  What color theme that best goes with your style, the wedding dress: should it be white, off white or leave the traditional and go Color.  Researching your Venue, whether it be a quaint backyard Chic, Rustic Wedding or a Glamours Bling, Bling Wedding at a 5 star Hotel, your mind is drowned in wedding planning.  After 1 year planning, budgeting, you have arrived on your Big Day.  What if your Big Day was not Picture Perfect, will that rain on your Parade?  How will you handle it?  A Chicago Couple on Friday July 24th was faced with a For Better or For Worse dilemma.  As they are going through their Wedding Day Plans, their Apartment Building was up in flames. Andrew Taylor , the Groom received the news via Text from one of his Groomsmen who happen to live in the same building.  Their wedding rings were in the apartment and were destroyed along with most of the couple's belongings.  Though a less than Picture Perfect Day, the couple,   Dayleen Marrero and Andrew Taylor manage to continue on with their Wedding later that evening.
Sometimes life throws a curve ball at us and wants us to still catch it as best as we can.  If we just dodge the ball then these these Less than Perfect Days we experience will always be a thorn in our memories rather than  a thorn that will be part of a more beautiful creation, the Rose.  If planning your Wedding feels too overwhelming or over the top for you, keep this story in perspective.  No rewards is without it's challenges.  We all experience the For Better or For Worse scenario no matter if our love story is a Short Story or a Novel, we all want Love to Conquer All.
For more details of  Dayleen Marrero and Andrew Taylor's story, click the link below.
Chicago Couples Home Destroyed by Fire
Want to be a blessing in Dayleen Marrero and Andrew Taylor's Lives?  A GoFundMe account has been set up.