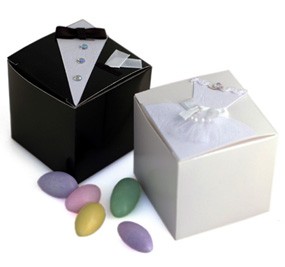 10 Tips To Help Them Look Their Best
1. The groom's formalwear selection will depend upon his coloring and build, the bride's and bridesmaid's dress color and style, the
season, time of day and personal taste.
2. Darker colors have a slimming effect.
3. Ties, cummerbunds or suspenders that are the same color as the bridesmaids' dresses bring the party together.
4. If the men in the wedding party are identically dressed, you may wish to set the groom apart. A slightly different boutonniere or
neckwear accomplishes this effectively.
5. Tuxedos should he reserved three months in advance and all measurements taken at least three weeks prior to the wedding. Have all the men try them on a few days beforehand for last minute adjustments.
6. Out-of-town groomsmen can have their measurements taken at a men's formal wear store near them and forwarded to the formalwear store where you have reserved your tuxedos.
7. Rented formal wear usually includes a jacket, vest or cummerbund, pants, suspenders, shirt, cufflinks, studs and a tie.
8. Usually, shoes are rented from the same store to maintain consistency.
9. Find out when the tuxedos may be picked up and when they must be returned.
10. Make sure he gets a hair cut two weeks before the wedding.
Reference: Premier Bride