Thanks to all who entered in our first ever best proposal contest. We received many entries and have narrowed down to 10 finalists.
Read their proposal stories below and vote on who you think should win up to $500 in personalized gifts and wedding favors from HansonEllis.
The Ten Finalists are listed in no particular order. Please VOTE after reading all the testimonials near the bottom of this page.







Couple: Lindsey and Harry
Title:  Perfect!
I got home from teaching dance to find my then-boyfriend all dressed up. I knew we were going out for dinner but didn't know what was about to happen!! Set up on our coffee table was an envelope that said "Clue 1" on it. I said "what's this?!" and he told me it was a scavenger hunt. When I opened it there was a beautiful message from him and then the hint to find my next clue in the closet. I ran to the closet and found a gorgeous dress hanging up with the next clue attached. The next clue told me how he would always be there for me no matter what and it led me to the dryer where there was a shawl to match the dress! The next clue led me to the medicine cabinet where there were beautiful silver dangly earrings. The final clue led me to my then-boyfriend's dresser and under his hat propped open was the ring!!! He got down on one knee and told me that he knew from the beginning how special I was and that we were meant to be together. But it doesn't stop there!!
I live in North Carolina and am EXTREMELY close to my family–they live in California. My fiance blindfolded me and told me we were going to a nice restaurant…I frantically tried to call my parents but it was in the middle of the day in CA and so they couldn't answer! We arrived at an upscale restaurant downtown where the hostess told us our table wasnt quite ready and that we should go wait upstairs at the bar. Still glowing, I climbed up the stairs and my fiance stopped. I asked him what he was doing and I looked up to find my parents waiting!!!!!!!!!!!!!!!!! SO AMAZING! We finished off the evening with dinner with our parents. I can't imagine anything more perfect (besides my husband to-be).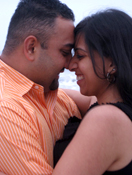 Couple: Purvi and Tejas
Title:  Don't steal other people's stuff!
Coming from a traditional Hindu family, my fiance and I already knew we both wanted a serious relationship, eventually heading to marriage when we first started talking, but even then the proposal came as a complete surprise to me.
He was coming into town for my friend's wedding and he had planned a date night for me (I'd never been on a real date before, so this was exciting to me, I got dressed up for it and all.) He had made reservations for dinner at a beach restaurant in Half Moon Bay, CA. We happen to love the beach, he had asked me to be his girlfriend on the beach in Half Moon Bay as well. I knew he had purchased the ring but he kept telling me since my size was very odd, it would take a month or more before he would have the ring in hand. From the time he purchased the ring we had an on-going joke where he would tell me I better "behave and act right" because he had 60 days to return it. So when he came into town for the wedding, the second we picked him up from the airport he kept saying that and I was getting very irritated, all the while he had the ring in his pocket so he was just teasing me.
That night while at dinner, my friends were on the beach just a few feet away setting up the scene, a blanket with a bottle of champagne, our names written in the sand, some glasses, and a dolphin and monkey stuffed animal with the ring tied around them. They had set some candles around the blanket as well.
After we finished our dinner I was ready to go hang out with friends, but he wanted to take a walk on the beach, I was in a skirt and a tank top and it was quite cold outside. So I was arguing saying it was too cold, etc etc, when he decided to guilt trip me and tell me he didnt know the next time he'd be out in CA was and when we'd have a chance to go to the beach, so I agreed to take a 5 min walk but thats it.
By this time, my friends had set everything up and had hidden behind some rocks with cameras. We were when walking on the beach and I was so engrossed in conversation with him that I had not noticed the set up, we walked past it a bit and he kinda looked back and said "oh look someone left something on the beach" I still didn't pay attention and thought it may be someone elses(there were plenty of people on the beach when we were eating dinner). I hadn't realized that there wasn't really anyone on the beach anymore. He started to walk towards the the set up saying look theres a dolphin and a monkey let me just get them for you, all the while I was pulling him away, afraid someone may come back and say why are you taking our stuff, etc, I kept saying to him "what in the world are you doing taking other peoples stuff", he managed to drag me all the way back to the blanket and I still was on the "look out" still saying why are you stealing someone else's stuff, he was on both knees trying to get the ring off and I was impatiently still pulling on him, when all of a sudden he turns around on one knee and I see the ring and pretty much freeze in disbelief, thinking to myself, what is going on here??
He asks me to marry him and I barely get the word Yes out because I froze and started shaking and just couldn't believe it. He slips the ring on and we hug and then he points to some rocks telling me my friends were behind the rocks and I look over and sure enough, there they were with camera's in hand.
All in all, he did a wonderful job with the proposal!!





Couple: Amelia and Chris
Title:  After a Comedy of Errors
It all started when we made plans to take the ferry from Boston to Provincetown, MA in the Cape. Unfortunately due to a personal tragedy back home our plans to go out there were put on hold so I could fly home. I was so upset with all that had transpired he told me we could go to Portland, Maine instead since it was closer to home and I'd been begging him to take me. The night before Chris decided to go up to Topsham about 20 minutes from Portland with some of his buddies and stay at a hotel since he had to be up there by 6:30 the next morning. That whole afternoon before he left he kept telling me to charge the camera, that immediately made me suspicious since we're horrible about taking pictures. So, the day we'd planned on rolled around and after waking up early and taking extra time to get ready I started out for the hour and a half drive to Portland.
Well, as luck would have it about 10 minutes down the road I remembered I had a doctor's appointment. So I turned around a went to my appointment. On try #2 I got about 20 minutes down the road when I realized I was out of gas. Not sure of where I was I got off at the closest exit and spent 20 minutes getting lost before I found a gas station. Once I was back on the road Chris called wondering where I was and when I told him he told me to meet him halfway since he didn't want to wait around outside for me. I got about 30 miles from my destination when out of the blue I realized I had left the straightener on and it was on the floor. Once again, I called Chris(this time in tears) and told him I had to go home I left the straightener on. He told me it was ok we would go another time. I turned around and went home really upset because I was sure that was going to be the day he was going to ask and I had just screwed it all up. Go figure, I got home and I had in fact turned the straightener off. I was so upset by the time Chris got home I barely even wanted to talk. I just knew I had blown it that day. I fell asleep on the couch to sleep my disappointment off.
An hour later I woke up still disapointed but feeling a little bit better than I had. Chris saw that I was awake and came over to lay on the couch with me, as were laying there he slipped his arm underneath my head and placed the ring just barely in my line of sight. Confused, I took whatever was in his hand and realized it was the most beautiful ring I'd ever seen.
I looked at chris and hugged him and all I could say was "really? really?" He said yes and asked me "will you?" I asked him back "will I what?" and he asked "will you marry me?" Of course I said yes. After all was said and done Chris told me he was planning on proposing in Portland I told him he still could have and he said "no I didn't want to wait". Then later on that same weekend I found out my cousin got engaged the same day as us!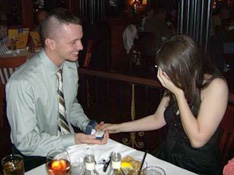 Couple: Heather and Chad
Title: Heather & Chad: A Family Affair
I had not one clue that my current husband, Chad, was going to propose to me the night that he did. He was on leave from the army base Ft. Polk for a two week vacation back home. He kept telling me that we should get our families together for a dinner at martinis, which is a five star restaurant, I agreed and so it began. He gathered all of our family which was both of our parents, siblings, and grandparents, for a beautiful dinner. He kept telling me I should wear a dress. Being the tomboy that I am I didn't want to but I finally gave in after he asked over and over again, I also wore some black high heels, which I never do, and as we were driving up I told him to make sure he didn't just run in because I can't walk too well in heels and he is 6'7" and already takes huge strides anyway.
When we got to the restaurant the first thing he did was run straight in. I was totally confused, had he even heard me? So I came into the restaurant and we all sat down at this low lit romantic table and my dad ordered some Champaign and then I notice that Chad's leg is tapping 100 miles per hour. So I lean over and ask him if he is okay? He tells me that he is and I just figure it's because we have never had our families together before and he is nervous. We continue to order our food and then it happens, He gets down on one knee and takes my hand and says the words, "Heather, I love you, will you marry me?"
At first I thought he was joking because he is such a jokester, earlier in the week he had bought some cufflinks and asked me the same question in a silly way so I thought he was kidding again. Because of this I nudged him and lovingly said, "Shutup!" while laughing. Then I looked at my family, the women were crying, the men were smiling, and then he opened the box. The ring was beautiful! Perfect in everyway and as tears streamed down my face I said, "YES I WILL!" I hugged him and employees at the restaurant brought me roses, everyone stood up and clapped.
We got the whole thing on video and pictures were taken by my family, I was so happy and found out later that he had asked my dad for my hand. I was so happy to hear that my dad said of course and he helped Chad find the perfect ring for me. I also found out why he ran into the restaurant so quick without me. He was trying to make sure the roses were ready 🙂





Couple: Christina and Mark
Title: Valentines Day
The story of how we got engaged will be told by Maid of Honor, Jillian Braun…
It's the afternoon of Friday, February 13th, 2009 when Mark walks into my office, closes the door, and places a ring box on my desk. It doesn't take a genius to know what's inside, I could barely contain my excitement! He tells me that he's planning on proposing to Christina at dinner on Valentine's Day. (The four of us: myself, Christina, Chris, and Mark were planning on having dinner at the romantic Cynthia's Ristorante in downtown Paducah, KY on Saturday night.) But now…Mark's going to propose?!!? Chris and I certainly can't be there for such an intimate moment! I immediately congratulate Mark and, like a typical girl, start rattling off the questions!
J: You're doing it tomorrow?!!?
M: Yep.
J: Chris and I will stay home! You take the reservations!
M: I want you guys to be there.
J: When did you?…where did you?…how did this…? (I was at a loss for words, couldn't finish my own questions…but Mark filled me in).
M: I've had the ring since November. I've almost proposed three different times, but I always get too nervous. I'm going to do it tomorrow.
J: OOOOOOHHHHHH!!!! YAAAAY!!! I'm SO excited! *squeal*
M: Don't tell Chris.
Saturday rolls around and I'm about to explode with this secret that I can't share with anyone! (Grrrr….thanks, Mark…I hate keeping secrets!)
As I'm getting ready, bouncing around with excitement and anticipation, I get a message from Mark…he's getting cold feet, he's backing out of proposing. Now, my typical response is to scream at the top of my lungs and tell him it's about time he makes this happen!! But I restrain myself and reassure Mark that no matter the time, day, occasion, or setting, Christina will say yes and will always remember the moment he got down on one knee as nothing but perfect. I told him to take his time and wait for his own moment, just because it was Valentine's Day didn't make the proposal anymore perfect.
The evening arrived…Mark looked dashing; Christina, stunning. As we sat at dinner, I couldn't help but think how perfect it would be for Mark to propose there. The setting was romantic, the food was excellent, and the conversation led to…marriage. Christina's timing on the subject couldn't have been more perfect! She talked about how just that week someone had told her it was about time her boyfriend proposed, she talked about how she and I should move in together, she talked about how Mark was NEVER going to propose! If I could have kicked Mark from under the table, I would have. Instead, I listened intently to Christina go on and on about how she'll be a single girl forever!
I thought maybe by dessert Mark would make his move. Yet I also wondered if the topic that had dominated the nights' conversation would keep that ring in Mark's pocket for another three months! Dessert came and went with no ring in the cheesecake or the champagne and I began to give up on the idea that Mark could be swayed to ask the big question.
But then!!!…we all piled into the car and Mark drove us down to the river. He wanted to go for a walk! (I'm thinking: Yes! Perfect! They can go off alone, this will be great! I even pictured them on the cute little park bench that sat on the hill overlooking the river, that's where it would happen, I was certain of it!). So of course, I was really excited about going for a walk in 35 degree weather, I didn't see any reason not to go! …but then there was Chris and Christina. They wanted to sit in the car. They didn't want to get out in the cold. They even suggested that Mark and I go for a walk!! Oh! The nerve of them! This could be Christina's perfect moment and she'd rather sit in the car with my boyfriend!! Ohhh, the two of them are exhausting sometimes!!
So we kept driving, and I was feeling the weight of a bowling ball in my gut. I wanted to yell at Chris and shake Christina, I should have just kicked them both out of the car! Once again, I thought the moment had passed…but Mark came through again! He saw a horse-drawn carriage coming down the road!! What another perfect idea! My hopes were renewed!
"Come on, guys! Let's take a carriage ride!"
"It's too cold. It's going to smell like horse poop. Let's just go home. You and Mark go if you wanna go so badly."
OH. MY. GOODNESS.
So that was it. My hopes were lost. It was time to go home and call it a night. It was a long drive home and it was only appropriate that Beyonce's "Single Ladies" played on the radio before the night was completely over. Poor Mark, I thought. He really tried. We called it a night and all went our separate ways.
…then…not a half an hour later…the phone rings. HE DID IT! HE ASKED! SHE SAID YES!!!!!!! FINALLY!!!!!
How did it happen?
Well, after they got home, Christina was getting ready for bed, time to wash up and get some sleep. But Mark had different plans. As Christina was walking towards the bathroom, Mark said her name. Without a glance towards Mark, she tells him she's getting ready for bed and going to sleep. He says her name again, and this time she turns around only to find Mark right behind her, down on one knee, holding a beautiful engagement ring. Tears immediately fill Christina's eyes as Mark asks the big question. In her excitement and tears, she got so excited she forgot to tell Mark "yes"!!! He checks with her just to be sure, and of course, her answer is undoubtedly yes and the moment was undoubtedly perfect.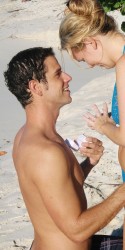 Couple: Nicole and Daniel
Title:  Surprise Proposal Trip to USVI – St. Thomas
Over the past year we have had many serious talks about getting married. I have been anxiously waiting for a proposal for quite some time and I knew whenever it happened it would happen in God's timing…
On Monday, October 19th, 2009 Daniel and I went to a local park to eat subs for dinner on a park bench. I thought when we were finished we would walk around and watch the sunset. He said he had a small surprise for me so he drove me to a local bookstore and said we were there to get some magazines for our next trip. I went along with his idea and we got some magazines (this isn't unusual as we often go here to look at magazines). He then took me to his place and in his room on the floor was a large openend suitcase on the floor. He placed the magazines inside and said "You're taking this home and you're going to pack. Tomorrow after work we're driving to Miami and then going somewhere else the following day". I was so shocked and surprised! Daniel had even taken off work for me and cancelled other plans I had scheduled for that weekend without me knowing.
While in Miami we had lunch, shopped, and waited for our flight which didn't leave until later. It wasn't until we got to the airport that Daniel surprised me and said we were on our way to St. Thomas – Virgin Islands! We arrived late and called it a day at the resort we were staying at. The next morning on Thursday, October 22nd we had breakfast and went to a local market for some groceries. That early afternoon he had planned for us to go on a sailboat. I thought it would be a group outing, but I soon found out he had chartered this private sailboat for just us! Our first destination was a private island near St. John where we were dropped off by smaller boat and we snorkeled for a couple hours until our lunch on the sailboat was ready. Afterwards we enjoyed a romantic lunch and listened to relaxing music. After lunch our last destination was to take a smaller boat to a nearby beach on St. John Island called Honeymoon Beach, which is a very private beach and the nicest beach I've ever seen. Daniel and I swam around in the beautiful blue water, and just enjoyed ourselves until Daniel flagged over the guys from our sailboat. I thought they were just bringing over our camera we left on the boat, but it was actually Daniel's plan so we could get pictures of him proposing to me! Soon after they arrived on shore with our camera Daniel picked me up off the towel I was laying on, dropped to one knee, and proposed!
After the proposal we went back on the sailboat and sailed into the sunset (literally) back to our resort in St. Thomas! We spent five days on the island and will remember this memorable trip forever!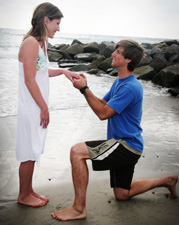 Couple: Sheena and Steven
Title: The Proposal Surprise!!!

Steven proposed on Tuesday, May 26, 2009 after being together for just under 3 years.
Tuesdays have been a special day for us, a sort of "us-time" that allows us to grow and strengthen our friendship and love for eachother without any distractions.
So there really couldn't have been a more perfect day for Steven to propose. During an amazing time surfing at the O'side pier early in the morning with our good friend Cory, Sheena experienced her first barrel. Sheena & Steven spent the rest of their sunny summer day with swimming and a poolside lunch.
To add to the day's perfection, Sheena later took a nap while Steven made plans with his mom. When she awoke, Tammy told Sheena & Steven that she had a family's photo-shoot at the beach at sunset and asked if they wanted to go to the beach with her to look for seashells. Agreeing to meet Tammy there, they first ran some errands and then headed to the beach… just like any other day, or so Sheena thought!
Prepared for a fun time at the beach, Sheena & Steven walked up with a Frisbee around Steven's neck and towels around Sheena's, but realized that Tammy had not yet begun shooting. Sheena asked where the family was that she was supposed to take photos of and was told they were just running late. After agreeing they should all just hang out and look for seashells while they waited—Sheena, Steven, Tammy, Rick, & Bree all went down by the water and began looking for shells.
While Sheena scanned the shore for shells, Tammy directed her attention by walking over to the jetty. With Steven trailing just behind her, Sheena was quickly drawn to a bright white object tucked between the jetty rocks. Her excitement grew as she realized what she had found—a perfect, giant, white sand-dollar. Reaching for it with shear amazement, she hesitated for a moment as Tammy took her photo. Sheena then realized that Tammy must have been playing a trick on her and Steven by hiding such a perfect sand-dollar knowing we would find it. Sheena, thinking Tammy was just trying to trick them, continued to reach for the sand-dollar and picked it up.
Admiring the sand-dollar's perfection, Sheena looked at the top of it before flipping it over. When she did, Sheena began reading something written on the back of it. Confused by thinking she found someone else's hidden sand-dollar, Sheena's excitement, shock, and happiness overwhelmed her as she realized the message was for her. It read, "Will you marry me Sheena?"
Looking back and forth with trembles running through her body, she turned around to find Steven down on one knee holding a small box with a ring in it. Before even looking at the ring, Sheena hugged and kissed Steven—saying "Yes" as he stood and embraced her. Completely overwhelmed with joy, Sheena began crying as Steven whispered, "I love you." Steven then got back down on one knee, told Sheena how much and why he loves her and slid the ring on her finger.
Sheena & Steven will marry on May 23, 2010. They will start their live together one year after the proposal & one week after they graduate from college!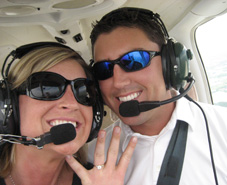 Couple: Kelly and Mike
Title: Best Flight Ever!
We rented a plane & went flying (not unusual- we're both pilots). We were around 1 nautical mile high & flying over the main lake in my hometown when Mike told me he was going to do a 'negative g' maneuver. (I didn't see him take the ring box out of his flight bag & set it on the floor because I was busy taking pictures of things on the ground.) When Mike pushed the nose down (part of the maneuver), things in the plane started to float… including the ring box- right into my lap! I couldn't believe that he was actually proposing & kept asking, "Are you serious, is this real?!" I eventually said yes & now we're planning our wedding at the ballroom on the lake (were flying above when he proposed!).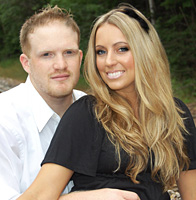 Names: Hollie and Aaron
Title:  Poor Aaron
It was time to take down our Christmas tree. We always put off taking down the tree, it was sad for me. I love the holidays. My name is fitting:) Aaron and I had very blue glittery ornaments so our tree was shiny from top to bottom. Aaron placed my "shiny" ring on an ornament then he placed that on a branch of the tree facing the wall. It was a busy day, I remember Aaron going out on a snowy day to run a FEW errands. I stayed back to finish things. I remember waiting for Aaron to take down the tree…we always did it together. That particular day Aaron was pokey and I wanted to start cleaning around the tree. I pulled only a few ornaments off and that turned into all ornaments ….i placed them all in a big box. The tree was bare. The skirt was dusted off in the snow. I cleaned up that big needle mess. Sad part was–When Aaron finally got home he was a crank. He asked a billion questions and was ticked that I had taken down the tree without him. He rushed to the box of ornaments and dug through them.
(he found the ring on top the ornament he placed it on)
I had no clue the ring was on the tree. It's so funny…I never saw the ring…the ornaments were so glittery and since i had no clue…..i never sought out to look for it.
****************************************************************************
Aaron's second try at proposing…this time it worked:) Poor Aaron!
It was January 7th, 2009.
Aaron placed photos of us around our bedroom. He attached strings to each one so i had to start at one and go around the room:)
He had past photos of us: with a note, I loved you in the past
Present photos of us: with a note, I love you now
and a shiny box that had a note on it: I will love you forever
I opened the box, it was empty
He went to his knee and proposed with my beautiful ring.
Aaron talks about how he loved his first proposal….and wished it worked out…….
But i tell him we have stories for our children someday:)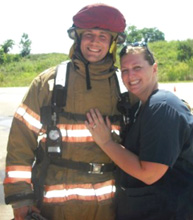 Names: Amanda and Chris
Title:  To the rescue
It was at his fire fighting graduation. The recruits were showing everyone all the things they learned. The last thing was climbling the ladder of the six story building that had smoke coming out of it. The Chief asked me to go to the top and present Chris with the leadership award when he got up there as the classes top recruit. I snuck up and he was the last person on the roof. With all his recruit buddies around I made a speech and gave him the award. When he opened it, it was blank. Then he said there is no award, and got down on one knee and proposed! I was beyond shocked. I cried like a baby. All the guys were taking pictures of it for everyone on the ground. I just held the ring in my hand because I didnt know what finger it was suppose to go on. He got up and put it on for me. I then heard my dad on the radio. I looked over the building and our friends and family were all there cheering. The chief had his speaker on so they could hear! It was perfect!





HOW TO VOTE:

After reading their proposal stories, VOTE on who you think should win the the prize worth up to $500. You can only vote once a day. Voting ends on 12/31/09 at 11:59 pm.
The winner will be announced on January 8th, 2010.