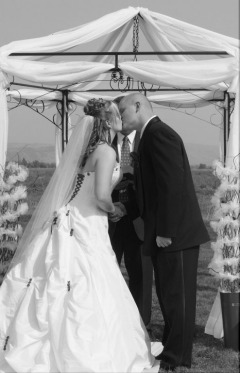 Mistee (pictured above) writes from Idaho

HansonEllis is amazing!!

I'm getting married in September to a man with the last name of HANSEN.
Coincidently, my last name is ELLIS. When I found your website I thought to myself "It has to be fate." I was right. HansonEllis had everything that we were looking for and much more. I was able to get great gift ideas for not only the wedding party, but also his and my
parents.

HansonEllis has friendly and fast service. When I called to place my order, I was put right through to a representative. Other places have put
me on hold for up to 10 minutes! The person I talked to was not only friendly and funny, but very interested in how my wedding plans were going. Plus, It only took a matter of minutes to order a variety of your products. Moments later I received an e-mail verifying my order. This service is wonderful because I was able to see any mistakes before they
were made. To say the least it was not only easy, but fun. I will definitely be telling friends and family about your great products and services.

HansonEllis, made my life easier in a time of great stress. Words can't explain how much I appreciate everything you did.

Thank you,
You guys are GREAT!!

Sincerely,

-A Satisfied Customer-
Mistee Hansen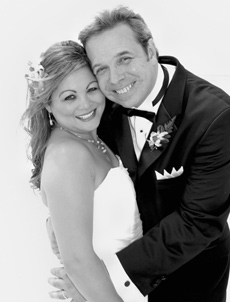 Saada and Al (pictured above) writes from Baltimore

Thank you, HansonEllis for the perfect compliment to our Beach Wedding! I'm so glad to have the opportunity to write a review. My husband and I were married in a private beach ceremony in Jamaica on February 23, 2008. I had been planning our wedding well in advance, and since it was just the two of us that went to Jamaica we wanted to plan an After Party with family and friends and keep the beach theme going.

I searched the website and found lots of beach themed items for favors. As soon as we saw those beautiful starfish with the organza bows, we knew that was what we wanted. They were beautiful and unique. As it turned out, I had ordered more than we actually needed to give to our guests but that worked out to our advantage as well. We were able to use some of the extras as table decoration around our beach wedding cake. It was perfect!

Thank you again for your wonderful service. I know that should the need to order favors for another occasion or to recommend to friends planning an event, that I will keep your website in mind.

Sincerely,
Saada & Al Russell




Jodi writes from Pennsylvania

Hello,

I received my engraved business card holder, it was beautifully done. I just wanted to give your company praise for the wonderful order. I also would like to add that I received a call from one of your representatives about my shipping status, I wish i could remember his name, but anyways he was very helpful and kind. I really appreciate the great customer support, and I cant wait to order from you guys again in the future. thank you very much.

Sincerely,
Jodi Birch


Vicki writes from Australia

Hello,

I received my order today. I would just like to convey my sincere thanks and appreciation for organizing my order in such a professional manner. Everything received is exactly what I hoped for and more, being in excellent order. The pen works and looks absolutely exquisite. The glass frame arriving without a crack. Just perfect. Please pass this on to all concerned.

Kindest regards
Vicki Oldham


Christine writes from California

My husband and I wanted to have the Beach Wedding of our dreams...in our own back yard! We lovingly selected the theme, along with dinner and a Tiki style lounge area - choosing every detail in order to have an fun and elegant day.

When we found the Hanson-Ellis Invitations in a Bottle, complete with sand, shells, and customized invitations, we knew that we were going to announce our special day in a very special way! Our friends and family enjoyed receiving them so much, we had to make a second order, because everyone wanted their own!

We were also able to find some very elegant shell spreaders to give as wedding favors through Hanson-Ellis!

Down to the last detail, but starting with the first - our invitations - our wedding was the perfect start to our marriage and new family. Thank you, Hanson-Ellis, for helping us with our dream wedding!

The website was easy to use, the customer service was excellent, the timeliness of shipping was perfect, and the products we ordered were well made and well packed. We are thrilled that we found your company, and will remember it for all our special occasions!

Christine Lee (and Johnny Mack) Rowell


Patti writes from Wisconsin

Dear Hanson Ellis

Our Church, Christian Life Church hosts an event called Women of the Word, WOW for short. This year our scripture was Matthew 13:46, about the Pearl of Great of price, so of course we wanted a special favor to go along with the theme to give to the ladies. I looked for quite some time to find exactly what we were looking for. The keepsake clamshell trinket boxes were absolutely perfect and a big hit, everyone loved them and they were very excited to receive them.

The quality was great and the inscriptions beautiful.

Your customer service team was marvelous, they are all very helpful and kind. It was a real pleasure working with them. I look forward to a time when I can work with Hanson Ellis again.

Thank you and God Bless,
Patti Twist


Selwyn and Kizzy write from Texas

I had the pleasure of ordering the Message in a Bottle along with the Personalized Natural Seashells for my best friend's engagement party. I searched for several weeks in hopes of finding very unique and creatively clever beach invitations and party favors for the event. I knew I had found exactly what I had been searching for the moment I saw the Message in a Bottle and the Personalized Natural Seashell. I immediately contacted the HansonEllis Customer Service department via phone to request a rush delivery where my order was placed by an extremely helpful and impressively resourceful staff member (Tracy) who even offered me a wide range of options and suggestions for my order. By the end of our telephone conversation I was confident that I had made a great decision by using HansonEllis. The Customer Service (Tracy and Brenda) I received was excellent and the attention to detail exceeded my every expectation.

Thanks HansonEllis for providing outstanding Customer Service!

Selwyn and Kizzy Thomas
Houston, TX


Ariel writes from North Carolina

HansonEllis made Our Wedding truly blissful. You are User Friendly! My husband and I had a very private, small wedding reception. We researched over 40 wedding suppliers and most of them would not cater to small affairs. We found HansonEllis and were truly satisfied because not only were the items beautiful, unique, reasonably priced and well packaged- we were able to purchase in small quantities. The prices are so reasonable that we even had money left over for a nice honeymoon in Asheville, NC.

The items arrived as promised, and were even nicer than the pictures on the site. HansonEllis wins our vote for Number One Wedding Suppliers. We also received quick and friendly replies to our emails. You guys are truly bride and groom-user friendly! Thank you so much for making our day a true blessing.

Ariel and Scott Breen
Feb 4, 2005 Wedding Date


Adele writes from New York

Dear HansonEllis,

I wanted to thank you for your terrific customer service. I ordered about 75 demitass cups with the rock candy sticks and they were just beautiful. UPS had crushed the boxes while shipping but I called immediately and they shipped me the replacements. They were very helpful. My wedding days is fast approaching (July 30th, 2006) and I wanted something unique and your company had some very unique items, I'm sure our guests are going to love them.

Thank you for GREAT service.

Sincerely,
Adele M. Ronollo
Staten Island, NY


Sherry writes from Texas

I ordered favor boxes for a 50th wedding anniversary party. Although you could not get those particular boxes, you contacted me quickly, and I ordered some that were even prettier than the first ones. I received my order in a timely fashion with constant contact from your company. I have since given your website out to several brides to be for their needs. I couldn't be happier with my order or your service. Great job!

Sherry Otahal
Baytown, Texas


Lisa writes from Chicago

Dear HansonEllis,

I just received the key to my heart keychains, and I couldn't be happier. The weight and quality of these heart key chains is exactly what I was looking for. I have passed along your webpage too many of my friends. I look forward to purchasing more of your items in the near future.

Lisa Bartels


Diane writes from Florida

Wanted to tell you we received the wedding bells over a week ago and they look great. My daughter is very pleased which pleases me. Thank you for your fast attention. The wedding is next week end and I am sure they will be a great hit. Once again thank you. We have other weddings coming up in the future and would not hesitate to use your services again.

Diane F. Gilbert


Melissa writes from Bermuda

WOW.....I just received my order from you and I wanted to tell you how perfect everything was. I ordered gifts for my bridesmaids and had them personalized. Each item ( wedding beans wishes...so cute, heart compact mirrors, mini champagne buckets with chocolate champagne bottles, heart candles and soaps and trinket boxes) is amazing! I love everything I ordered. My order shipped to Bermuda and the items arrived in perfect condition. Thank you again for all your help. I am excited to give my bridesmaids such special favors.

Thanks again,
Melissa and Kevin



Jennifer writes from New York

Good afternoon,

When sending invitations for my wedding, I wanted to be totally different. Don't get me wrong, traditional invitations are great, but they weren't what I was looking for. Hanson Ellis gave me the opportunity to be creative. I found what I was looking for and was very happy with the customer care I received. They were respectful and patient and I would not hesitate in recommending them. Besides me, my guests absolutely loved my Message in a Bottle invitations. They call me just to ask where they were purchased and I gladly tell them...HansonEllis.

Thank you for everything!
Jennifer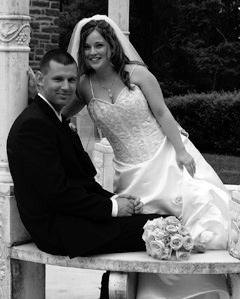 Alison and Chad (pictured above) writes...

Searching the websites for wedding favors was time consuming however, once I decided to purchase from HansonEllis I knew I made the perfect choice. HansonEllis was prompt in answering questions and the price was right. The customer service is excellent!

Thank you,
Alison & Chad




David writes from Florida

To whom this may concern.

Both my girlfriend and I are scuba divers. I am going to propose to her underwater this coming Saturday. I want to do it by having her find a tiny treasure chest and having her open it to find her ring. It was not easy to find this treasure chest. I finally found it your website.

Being that it is Wednesday, and I need it by Saturday, I called rather than order online. It must have been my very lucky day when Jae answered the phone. From the time I explained to him what was needed, to the time the order was completed, he could not have been more helpful and easy to deal with. He knew the product and he was kind and patient. He even had the presence of mind to call me back and tell me that due to underwater currents, he felt it might be possible that the larger treasure chest your company sells might be better for me - and even offered to pick up the difference. I ended up staying with the smaller one I originally ordered because I liked it better, and of course, I would have paid the difference had I been able to use the larger one.

I am writing this email because I was totally astounded by how wonderful Jae was to work with. He treated my nothing $4 order like I had just purchased $20,000 worth of items from you. This is the #1 reason I will purchase from your company and recommend your site to EVERYONE.

Now I just have to hope the box arrives on time for Friday as I am proposing to my girlfriend on Saturday.

Anyway, thank you for caring enough about your business to hire the likes of Jae. As I said, I will bring my business to your company before I look anywhere else because of him!!!

Very best regards,
David Pearlman


Tamara writes from South Australia

Hi there, I have just received my invitations and I must say I am truly impressed...they are so wonderful that I cried when I opened one....

Thank you so much for putting all the effort into making them...I will definitely be highly recommending you guys to other people... There were 4 starfish that were broken but the replacement starfish fixed all that. Thank you for throwing them in for free..

My partner will be home soon and I`m so excited to show him he was the one that wanted them the most and now I am glad that he made me buy them.

Thank you and kind regards,
Tamara


Patrick writes from Georgia

I purchased two pairs of engraved wooden chopsticks for my daughter and her fiance for their Sept 2010 wedding and found your website easy to navigate and like the pictures provided. I also talked with a CS rep who was very friendly, knowledgeable and helpful. Finally, my purchase arrived on time and the gift is very sharp. I would purchase from you again.

Thank you
Pat, Father of the Bride


David writes from Santa Barbara

Hello,

I just wanted to send a quick note to tell you that my money clips arrived and all the engraving is perfect. Thank you so much for providing such a great service and products at such a reasonable price. I will surely use Hanson Ellis again if I need a personalized gift, and I will definitely recommend your company to anyone else who needs wedding favors or gifts. By the way, I also love this coffee cup with the built in spoon.

Best regards,
David J.


Cindy writes from Minnesota

We received our order yesterday (a day early!) and the engraved chopsticks are beautiful. We appreciate that they even came in a nice gift box because we weren't sure what to put them in. We will certainly check your site first for our future gift-buying.

Thanks, Cindy H.


Christine writes from Illinois

I was really pleased with the favors that we purchased from your store for my sister-in-law's wedding shower. She is a serious tea drinker and we felt that a tea party would be the perfect complement for her bridal shower.

I looked all over the internet for a gift for the guests that signified the day and her as well. We also wanted a gift for a strict budget, but something that was elegant and not cheap looking. That is when I found your website and the perfect gift. We purchased the heart shaped tea infusers that were beautifully decorated with a bow and a personalized card. They were very special and personal since the color of the bow was a perfect match to her wedding colors and our shower colors, and the card beautifully stated the happy couple's names and their wedding date. I especially loved the saying on the card "Love is Brewing", perfect for the shower.

The gifts shipped quickly and since they were all put together, all I had to do was place them at the plates. Thank you very much for making my sister-in-laws shower perfect!

Christine F.


Emily writes from Tennessee...

I just wanted to thank you all so much for the wonderful wedding favors! The person who was originally planning on doing our favors backed about 2 1/2 weeks before our wedding (which is this Saturday). We are getting married at an old historic horse plantation and I fell in love with your horse shoe soaps in the boxes with the adorable labels. In fact, these are sold in the gift shop of the plantation where we are getting married. Jen was such a big help and a pleasure to work with! I cannot believe you all were able to get me the favors in just over week. I appreciate the quick turn around so much and know these favors will be a big hit at my wedding this weekend!

Sincerely,
Emily Gordon


Liz writes from Ohio...

I recently purchased four butterfly compacts for my bridesmaids' gifts for my July wedding. I have seen the exact same compacts on other websites, but at a higher price and it did not include the personalization on the back (it was extra).

My wedding has a butterfly theme so as soon as I saw these, I knew I wanted them. I couldn't be happier with my purchase. I also got the matching lipstick holder for my maid of honor and best friend of over 25 years! The personalization was perfect and the compacts are adorable! They even came with a free velvet pouch so they won't get scratched in their purses. I truly couldn't have asked for anything else. I am absolutely pleased with my purchase and will even be getting one more since I've had a bridesmaid "drop out" to be with her new daughter who is having a lung transplant around my wedding date.

Thank you for making my online purchase and my future purchase(s) a great experience!!

Liz W.


Cheryl writes from Wisconsin

I ordered my wedding favors from HansonEllis (The Perfect Pear) and it was really the perfect pear. My guess have never seen them before and that was the first time my husband saw them too. I wanted to surprise him with the favors I chose and he was most excited and very impressed with it. I felt like a princess on my special day and HansonEllis was right there with me to add that extra special touch to my wedding. Thank you very much HansonEllis, I wish I could do it all over again so I can order my favors from your web site. The gift were well packaged and was deliver in a timely manner. Once again a big thank for making our day so special. My husband also sends a big thank you.

Cheryl and Ryan Martin
Jamaica, WI


Carolyn writes from California

As a mother of five, and a Foster Parent of eight, I have always had to watch my pennies! When I had two children marrying within 6 months of each other in 2004 and 2005, I had to find great prices on great one of a kind items for the wedding parties, and for the gifts. I found Hanson Ellis on line and was very please with the quick delivery of my orders. I was also happy I could order one of the favors to see just how it looked, before I committed to 100 of them! I bought bells with the children's names and wedding dates on the ribbons. I bought personalized bud vases for the grandmothers and even the heart shaped salt and pepper shakers for the Father, of my Daughter in law, who is a great chef.

Now my relationship with HansonEllis has not stopped with these two weddings. I have bought two wooden beach chairs for my beach decor bathroom, which are very cute and bring compliments. They were being sold as place cards holders! I bought a personalized shell shaped box for my sister's birthday, I just had her name and birthday printed on the top shell. For our thirtieth wedding anniversary, I had a shell box made for my husband, to hold his tie tacks and small items. On the top, I had "Carolyn Loves Glen 1977-2007" printed, to share my love for Him!

I have very much appreciated your services over the years. I can afford your special personalized gifts, that show my family and friends just how special they are to me!

Again Thank You,

Carolyn Kippel


Olga writes from California

After endlessly searching for the perfect wedding favor I found the "perfect pear" scented candle! I must admit we selected the pear as our wedding theme because of your wedding favor! Our guests could not stop raving about how "cute, classy, elegant and different" they were. If only planning my wedding was as stress free as ordering my "perfect pears" from HansonEllis. My order was timely, in perfect condition and was exactly what I wanted! Thank you HansonEllis for making my wedding a bit more special!

Olga & Dan Berumen
Pasadena, California


More Customer Testimonials...


To Our Valued Customer

We understand the importance of your special event. Our goal is to make your timeless moment a day to cherish and remember. I would like to thank our value customers who made HansonEllis.com one of the Best Wedding Sites today (Bride Magazine). If you would like to send us your testimonial, please email it to wedding@hansonellis.com Thank You!