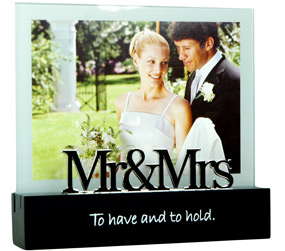 Previous
Next
| | | |
| --- | --- | --- |
| | Write an Online Review (Please Create Account) Step into the "Spotlight". It's your chance to get the buzz out and set the trends for the year. Help other shoppers choose the best products by sharing your thoughts. | |
| | | |
| | | |
| --- | --- | --- |
| | Recently Viewed Products | |

Mr. and Mrs. Wedding Expression Frame (New Arrival)

Product Information

Remember your big day or special party for years and years to come with our absolutely fantastic Mr. and Mrs. Wedding Expression Frame! Capture any moment you could possibly want of you and your special someone in this lovely freestanding glass frame! Include a photo of you and your loved one on your big day, or even just a fun moment for a night out on the town to show your guests how long you've been happy together at your reception, or to keep bright and happy memories on display around your home each and every day!

With the words Mr & Mrs standing in beautiful silver you can show guests to you and your loved one on your big day any day of the week for years to come. With the words 'To Have and To Hold' engraved in the base of the stand, this delightful frame will help you keep your memories of your wonderful day alive and well for years to come! Whether it's you and your fiancé, a new family member, or a close friend, this frame makes a perfect gift for the important pair of lovebirds in your life.

Share some memories of a day of fun in the sun with that special person? Our Sandy Beach Picture Frame with Hooks is just for you, with hooks to hang keys and other small trinkets, and a natural wood frame to immortalize your day at the beach! Or maybe you'd like a different way to remember that sandy getaway. With our Nautical Beach Bench Picture Frame you can have a fun and unique way of keeping your memories alive and well! For a fun, fairytale gift for your loved one, try our Personalized Music Jewelry Box With Picture Frame! Put a cherished memory in the frame on top and open the box up to play it's delightful song! Find these and more fabulous gifts in our Gifts for Couples section.

size: 8"W x 8"H x 2"D

When will my order arrive?

Note: Personalization color will vary on wood, granite, paper, leather, leatherette, shells, jute, and any natural products. *Customized products arrive assembled and/or personalized as shown, excluding glass ornament and some fragile items. Please read product description for details.