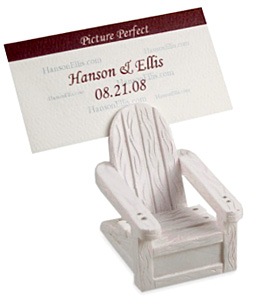 Previous
Next



Write an Online Review (Please Create Account) Step into the "Spotlight". It's your chance to get the buzz out and set the trends for the year. Help other shoppers choose the best products by sharing your thoughts.






Love these chairs!
Reviewer: Candice Lee's Summit MO

Bought these for a bridal shower cake. They are perfect...and the service from HansonEllis is outstanding. Couldn't be happier with this purchase!!!

---

Perfect price, perfect size!!!
Reviewer: Catherine Schenectady NY

I love these little chairs. My best friend's wedding cake will be topped with two of them on a beach themed wedding cake. She is marrying on Cape Cod this summer! These chairs are perfect; sturdy, petite, and perfectly priced. Thanks very much!

---

Birthday Favors were great!!
Reviewer: Christine S. Warren RI

We purchased the mini adirondack chair placecard holders for my daughter Samantha's 10th birthday on May 10th. We had the party on a local cruise ship here in RI which sails to Newport and all around Naragansett Bay, about 5 hours. So the party theme had to be beach! I bought 2 chairs to put on top of the cake we later designed with a cake artist. Since they were inexpensive, I bought 10 instead of 2, and decided to use the rest as actual place card holders. A couple came into the bakery and saw our sketch & the chairs on the counter, liked it so much they STOLE the chairs to use on their own cake!!! I was glad I planned ahead and had extras, just enough left for the cake plus one for each of 6 guests. Everyone on the boat (including the live band) sang happy birthday and commented on the cake AND the chairs. Thanks so much.

---
| | | |
| --- | --- | --- |
| | Recently Viewed Products | |

Mini Adirondack Chair Placecard Holder

Product Information

Your guests will have no trouble finding their seats with our Mini Adirondack Chair Placecard Holders. These lovely placecard holders are made from all natural wood and resemble a weathered Adirondack chair. Slip a placecard on the back of the chair and let your guests get a kick out of the unique and creative way you've invited them to their table. The Adirondack Chair Placecard Holder looks fantastic with any theme and puts a fun and vintage spin on your event.

If you are planning a beachside wedding, be sure to put the Adirondack Chair Placecard Holders on each table. These delightful little attention getters will get all of your guests into a relaxing mood. Place one of our Beach Seaside Photo Frames at each table too, next to our lovely Mini Beach Tin Pail with Seashell Potpourri. And be sure to give each of your guests one of our elegant Seashell Potpourri Ornaments to take home with them. Look through our Beach Wedding Favors pages to find these and many other wonderful ways to add to your special day.

The Mini Adirondack Chair Placecard Holder makes the perfect addition to casual events too. Use these festive accent pieces at your next family reunion or company picnic. Or place them around the table at your next barbecue. Your friends will love looking at the cute chairs as they dig into the meal in front of them. Put the placecard holders on display at your corporate event by adding one of your business cards to each one. Give them out, along with a coupon to your business, at the next your next business expo or convention. Your prospects will love the catchy way you advertise your services. Any event will be a little brighter when you use our Mini Adirondack Chair Placecard Holders.

size: 2-1/4"L x 2"H x 1-1/2"W


When will my order arrive?

Note: Personalization color will vary on wood, granite, paper, leather, leatherette, shells, jute, and any natural products. *Customized products arrive assembled and/or personalized as shown, excluding glass ornament and some fragile items. Please read product description for details.