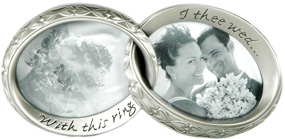 Previous
Next
| | | |
| --- | --- | --- |
| | Write an Online Review (Please Create Account) Step into the "Spotlight". It's your chance to get the buzz out and set the trends for the year. Help other shoppers choose the best products by sharing your thoughts. | |
| | | |
| | | |
| --- | --- | --- |
| | Recently Viewed Products | |

Interlocking Wedding Ring Picture Frames (New Arrival)

Product Information

Celebrate your love and your wedding in style with our absolutely fantastic Conjoined Double Wedding Ring Picture Frames! With sturdy metals in matching designs, these rings are perfect for displaying pictures of your and your extra special someone on your big day! Show off fun memories during your reception, ceremony, or even display fond recollections in your own home any day of the year. Show the world how much you love each other with this fantastic frame, or even give it as a gift to those special newlyweds in your life!

With two frames in one, each opening holds one 3" x 4" photograph of your choosing, letting you immortalize your big day and your special someone however you may like. With a traditional easel stand, this Conjoined Double Wedding Ring Picture Frame is perfect for displaying with your wedding book at your reception, or even in a place of pride in your own home. With the words "With this ring" and "I thee wed..." engraved on the interior of each ring frame, you'll leave no doubt in your guests minds of who your love and your life belongs to!

Looking for a great gift for the fellow newlywed couple you know? With our fabulous Signature Newlywed Memory Glass Picture Frame you can help the happy couple keep the memory of their big day alive and well for years to come! Add a unique flair to those memories with our Mr. and Mrs. Wedding Expression Frame! Perfect for the mantelpiece, this frame features a classy and modern design. Or maybe our delightful Everlasting Diamond Engagement Ring Picture Frame is perfect for you, with a single frame and the words "Just the beginning" engraved on it in wonderful style. find these and more fantastic frames in our Picture Frame & Album section.

size: 7.5"W x 3.5"H x 1"D

When will my order arrive?

Note: Personalization color will vary on wood, granite, paper, leather, leatherette, shells, jute, and any natural products. *Customized products arrive assembled and/or personalized as shown, excluding glass ornament and some fragile items. Please read product description for details.